The Institute for Global Economic Research (IGER) is sponsored by these entities.
---

Wells Fargo
Wells Fargo & Company is a diversified financial services company providing banking, insurance, investments, mortgage, and consumer and commercial finance through more than 9,000 stores and 12,000 ATMs and the Internet (wellsfargo.com and wachovia.com) across North America and internationally. We're headquartered in San Francisco, but we're decentralized so every local Wells Fargo store is a headquarters for satisfying all our customers' financial needs and helping them succeed financially. One in three households in America does business with Wells Fargo. Wells Fargo has $1.3 trillion in assets and approximately 280,000 team members across our 80+ businesses.
---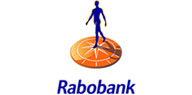 Rabobank
---

Union Bank
---
Disclaimer of Endorsement: Reference herein to any trademark, proprietary product, or company name is intended for explicit description only and does not constitute or imply endorsement or recommendation by us or anyone else.