Upcoming Events
How Safe Do You Feel About the Economy and Your Money?
Friday, October 13th
7:30 - 9:00 a.m.
Grand Salon
Economic uncertainties have been mounting. The stock market is overvalued. Former Fed Chairman Greenspan said the bond market is in a bubble. Washington and geo-political concerns have been adding fuel to the fire. Where is the U.S. and the global economy headed? What should you do with your investments? Dr. Sung Won Sohn, the MVS Professor at California State University Channel Islands will discuss the global economy, monetary policy, Washington economic policy, pros and cons of protectionism and the financial markets. The presentation will give food for thought on these issues.

RSVP FOR EVENT or Call (805) - 437 - 3637
   
Legal Do's and Don't in International Trade
Friday, October 27th
10:00 - 1:00 p.m.
Malibu Hall 100
This program will review important points in negotiating international sales contracts as well as steps to take to protect your intellectual property (patents, trademarks and copyrights). It also includes key points businesses should consider to ensure compliance with U.S. export regulations. 
In addition, how to reduce risk through the use of INCOTERMS will be considered and the role of rules of origin when trading with countries with whom we have Free Trade Agreements (FTAs) will be discussed.
RSVP for event or call 805-437-3637

Parking information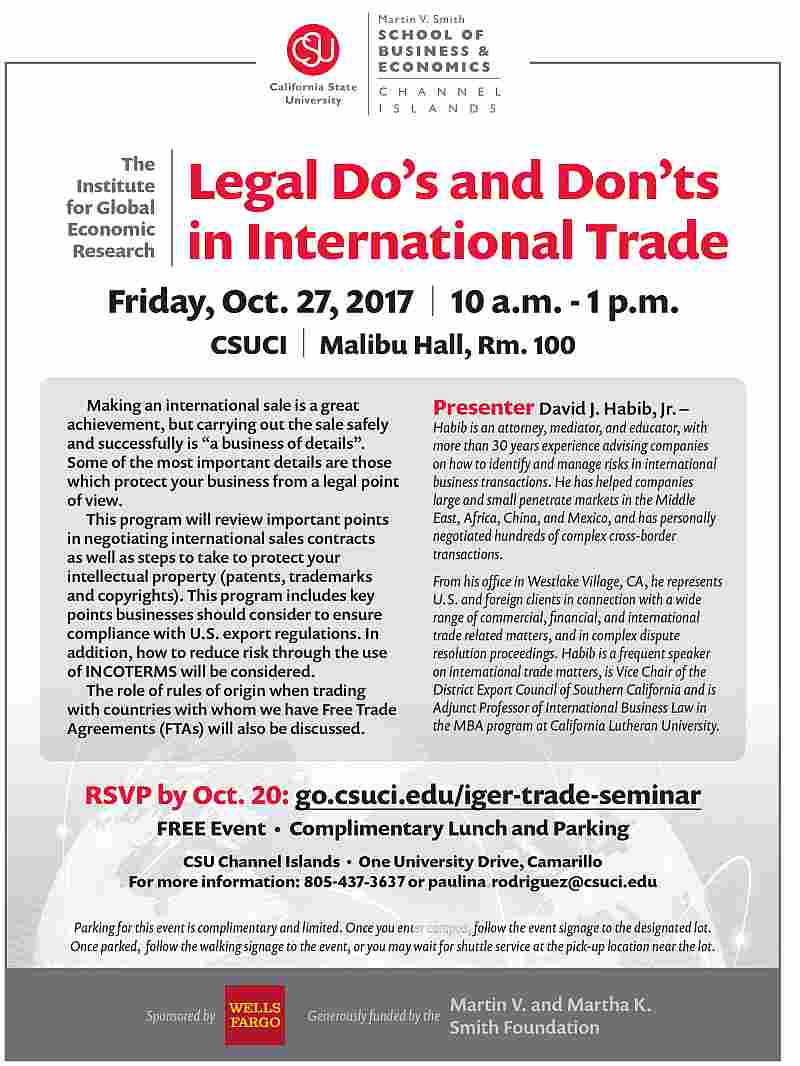 Presentation at the launch event of IGER (4/8/2011)
View more presentations from IGER2011.